Welcome
Welcome to my website! I'm a painter based in West Sussex, England, and I'm excited to have you here. Join my online subscriber list by clicking on the top bar, and explore the world of paint with me.

You can conveniently purchase my paintings online, and I offer international shipping. By signing up for my newsletter, you'll gain access to exclusive subscriber discounts, receive invites to private-view parties (both online and offline), enjoy free hanging/installation services if you're a local collector, and have the chance to win occasional freebies and giveaways.

I believe that paintings have the ability to evoke emotions and create a unique atmosphere. As a painter, my aim is to interpret and translate my daily experiences onto a canvas using paint as my medium. Join me on this artistic journey as we explore the power of color and discover the stories behind my paintings.

Sign up for my newsletter to stay updated on my painting process, learn about the inspiration behind my work, and gain insights into my techniques. I'm passionate about painting and embrace the challenges that each day brings at the easel. Let's embark on this visual journey together.
Read more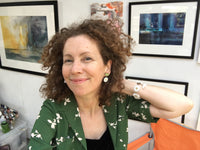 PAINTING AND PRINTS COLLECTIONS
View Jane's Paintings in Your Space
Finally! It is so hard to imagine a painting in your very own space at home or in the office. This is a game changer! No longer do you have to wait to get the painting home to see if it works in your space. View the painting on your wall using your phone or iPad. I am super excited about this, read my blog post 
Read the blog post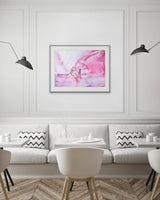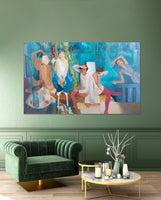 We bought the Swimming Pond
"We bought a beautiful painting recently called the Swimming Pond. I was initially nervous to buy online but Jane reassured me that if we didn't like it we could send it back. The painting brings the sitting room alive. Everyone in our family enjoys looking at it..".
Read More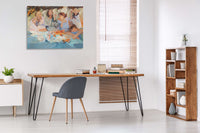 My New Painting now in Germany
The picture is gorgeous and I hung it in view of my desk so that I can see it every time, I want to make a little break from work.

Meanwhile I have three big original Denmans! 
Read More
We bought Komorebi
The simplicity of the subject and the combination of colours give this artwork a huge and instant visual impact. The background and the expression on the subject's face reflect the Japanese meaning of its title Komorebi - sunlight as it filters through the trees...
Read More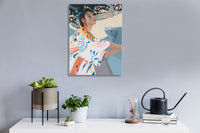 Delivered to Germany 'The Yellow Cardi'
In Jane's characters I recognize women, more rarely men, and sometimes androgynous beings. Women in particular and their emotionality touch me a lot. The sophistication of this picture lies in the clarity of being unable to hide the female mood. Thank you for that! "

Read More